| | |
| --- | --- |
| Duration | 15 nights 16 days tour |
| Locations | Negombo, Trincomalee, Habarana, Sigiriya, Polonnaruwa, Dambulla, Matale, Kandy, Ella, Arugam bay, Uda Walawe, Negombo |
| Client | |
| Reference no | 2380/23 |
Welcome to our exciting itinerary for your upcoming trip! Please note that the time given is only for travelling, and we have carefully planned the itinerary to ensure that you get the most out of your trip. The costing has been done for the hotel given, but if you need hotels in the "Recommended Hotels" category, please inform me. It's worth mentioning that some hotels in the "Recommended Hotels" category can be expensive. But we have selected the given hotels as they are of high quality and will provide you with the best experience during your stay.
Day 01 - AIRPORT – NEGOMBO
Arrival at the Bandaranaike International Airport. You will be met with and welcomed by CYRIL TOURS. representative upon your arrival and transferred to hotel in Negombo located near the airport for overnight stay. Negombo just 20 minutes from the airport.
Recommended Hotels: Heritance Negombo, Suriya, Goldi Sands
Day 02 - NEGOMBO – ANURADHAPURA

After breakfast checkout from the hotel to proceed to Anuradhapura, located in the North Central Province, is approximately 206 km away from Colombo. It was made the capital of Sri Lanka in 377 BC and rose to prominence with the arrival of Buddhism, becoming a major center of Buddhist pilgrimage and learning. The city witnessed a golden age during the reign of its great kings, who built colossal dagobas (pagodas) that rivaled the pyramids of Egypt in scale. The city remained an important center of power until the 12th century AD. 1st capital of ancient Sri Lanka. As part of your itinerary, if time permits, you may consider visiting the Wilpattu National Park, which is Sri Lanka's largest national park. Encompassing an area of over 1,300 square kilometers, Wilpattu is known for its diverse wildlife, including leopards, elephants, sloth bears, and a variety of bird species.
Following your visit to Wilpattu, you will proceed to Anuradhapura, an ancient city that boasts a rich cultural and historical heritage. Upon arrival, you will check in to your hotel, where you will enjoy a delicious dinner and spend the night.
Recommended Hotels: Palm Garden Village
Day 03 - ANURADHAPURA – CITY TOUR – TRINCOMALEE

After enjoying a delicious breakfast at the hotel, you will check out and embark on a journey to visit the largest and oldest of Sri Lanka's ancient cities, Anuradhapura. Your first stop will be the Isurumuniya rock temple, which houses a famous Indian-style sculpture known as the "Lovers" dating back to the 5th century AD.
The sacred city of Anuradhapura is a magical place, featuring some of the most ancient archaeological treasures in Sri Lanka. The gleaming white dagobas, which are large bell-like structures some over 100 meters high, are the most memorable features of the city. These dagobas house Buddhist relics and are an impressive reminder of an ancient civilization. The city's fame spread afar and features in writings from ancient Greece, Rome, and China.
At the center of the ancient city is the Mahavihara, the oldest of the city's monasteries. The Sri Maha Bodhi, which is the oldest documented tree in the world, grows here. This tree was grown from a cutting of the Bo tree under which Buddha achieved enlightenment in Bodhgaya in Northern India over 2200 years ago. The Thuparama dagoba, erected in the 3rd century BC, was the first dagoba to be built in Sri Lanka and enshrines the Buddha's right collarbone. Standing before the red-brick Jetavana dagoba, which was once the third-tallest structure in the world, is an awesome experience. The Abhayagiri dagoba is still covered in earth and vegetation, while the more famous Ruvanveliseya dagoba, fully restored, is beautifully illuminated at night. The magnificent Kuttam Pokuna or 'twin ponds' with their stone steps are well-preserved. However, all that remains of the Brazen Palace, once a nine-story structure with 1000 rooms, is 1600 granite columns.
The tour of the ancient kingdoms is very enlightening. To best enjoy it, remember to carry a hat or umbrella along with a bottle of water and some sun lotion.
After the Anuradhapura continue to Trincomalee. Checking to hotel in Nilaveli.
Nilaveli is a stunning beach situated on the east coast of Sri Lanka, in close proximity to the city of Trincomalee. This beautiful destination is renowned for its clear, crystalline waters and immaculate white sand beaches, which are ideal for indulging in leisurely activities such as swimming, snorkeling, and sunbathing.
Notably, visitors to Nilaveli can enjoy a wide range of water sports and activities, such as diving, surfing, paddleboarding, and kayaking, amongst others. For diving enthusiasts, Nilaveli offers an impressive array of dive sites that feature vibrant coral reefs, exotic fish, and a diverse array of marine life. Popular dive sites include Pigeon Island, Swami Rock, and the Hot Water Wells.
Pigeon Island, located nearby, is a particularly popular destination for divers and snorkelers, featuring an abundance of colorful marine life to observe. Alternatively, visitors can take a boat trip to the neighboring islands, where they can enjoy a relaxing picnic on the beach or explore the rich local flora and fauna.
Recommended Hotels: Nilaveli Beach hotel, Anilana hotel, Amaranthe bay hotel, Trinco blue by Cinnamon and Jungle beach
Day 04 - TRINCOMALEE CITY TOUR

After breakfast visit Trincomalee, a city located on the northeast coast of Sri Lanka, about 20 kilometers south of Nilaveli. It is a major port city and a popular tourist destination, known for its natural harbor, beautiful beaches, and historical sites.
One of the main attractions in Trincomalee is the Koneswaram Temple, a Hindu temple located on a cliff overlooking the sea. The temple is believed to have been built by King Ravana, a legendary figure in Sri Lankan mythology. Another popular attraction in Trincomalee is Fort Frederick, a fort built by the Portuguese in the 17th century, which offers panoramic views of the city and the harbor. End of the day back to hotel.
Day 05 – TRINCOMALEE - POLONNARUWA – HABARANA (3 Hours)

After enjoying breakfast at the hotel, you will proceed towards Habarana via Polonnaruwa. Polonnaruwa was a medieval kingdom that existed from the 11th to the 13th century, renowned for its agricultural development and the great ruler King Parakramabahu 1st (1153-1186) who presided over it. Under his reign, the island experienced its highest peak of agricultural development, earning the title of "Granary of the East" due to the construction of a vast and intricate irrigation system connected to the "Sea of Parakramabahu," the largest reservoir ever built in Sri Lanka's history. This era also witnessed ethnic harmony between the Sinhalese and Tamils, exemplified by Buddhist and Hindu temples situated in the same complex, alongside numerous other ruins. The grand palaces, colossal granite sculptures, and the extensive tanks and irrigation systems constructed by the great kings reflect the magnitude of the development that occurred during this period. Optionally, we may also visit the Minneriya safari on your way back to the hotel. We will then proceed for dinner and an overnight stay.
Recommended Hotels: Heritance Kandalama, Jetwing Vil Uyana, Cinnamon Lodge, Habarana Village, Aliya, Amaya Lake, Kassapa Lions Rock, Sun Green
Day 06 – HABARANA – SIGIRIYA

After breakfast proceed to Sigiriya the "The Lion Mountain" in the morning. Sigiriya present a unique concentration of fifth- century urban planning, gardening, engineering, hydraulic technology and art. In 470 AD Kashyapa the son of a non-royal consort of the king, took over the kingdom after committing patricide. He built his magnificent palace on the top of this 200meters high rock fearing the wrath of the crown prince Moghallana. The architectural wonder is famous for pleasure gardens, extensive moats and ramparts and mainly it's well-preserved rock paintings, of the beautiful "Cloud damsels" seen half up the rock and the "Lion stairway" that provides access to the summit. The complex of the fortress on the plains around the rock extends over 15 hectares.
After Sigiriya you can have a Village tour - Nature walk (Optional) and famous Ayurveda Herbal Massage (Optional). Cultural show (Optional) End of the day return to hotel.
Day 07 – HABARANA - DAMBULLA - MATALE - KANDY (4 Hours)

After breakfast checkout from the hotel and proceed to Kandy, en route you visiting the Golden Rock Cave Temple of Dambulla. Dambulla is renowned for its cave temple, which were built by King Valagambahu in the 1st century BC in gratitude for the shelter he sought in the caves when fleeing from Indian invaders. Sighted on gigantic granite outcrop, which towers more than 160m above the surrounding land, the caves are completely covered by ancient frescoes depicting religious and secular scenes. Protected within the caves are hundreds of statues of Buddha, many carved out of the rock itself, of which the largest is the 15m long Dying Buddha.
While continuing to Kandy, on the way (in Matale) you will have a chance to visit a spice plantation that grows a variety of spices such as cinnamon, pepper and nutmeg, for which Sri Lanka was renowned and initially colonized by the Portuguese, Dutch and British. You could also visit the Batik factory and watch the production of artistic fabric. Continue to Kandy. Check into the hotel in Kandy.
Recommended Hotels: Earl's Regency, Golden crown, Grand Kandyan, Mahaweli Reach, Cinnamon Citadel, Thilanka, Amaya Hills, Suisse, Queens
Day 08 - PERDENIYA BOTANICAL GARDEN - KANDY CITY TOUR

After breakfast leave to visit the Royal Botanical Garden of Peradeniya, initially a royal park in 1821 under British rule it became a botanical garden. Here exotic crops, such as coffee. Tea, Nutmeg, Rubber and Cinchona (quinine) – an all of which were to become important to the country's economy were first tested. The botanical gardens are fantastic with and excellent Orchid House, and a wide variety of plant species from all over the world. For keen gardeners, at least a morning is recommended to visit garden, possibly longer. After a garden proceed to Kandy.
Kandy, formerly the capital of the Sinhalese kings from 1592 to 1815, holds significant historical and cultural value. Its location amidst mountainous terrain and difficult approach made it an impregnable fortress, contributing to its UNESCO World Heritage Site status today. Experience the awe-inspiring Temple of the Sacred Tooth Relic of Lord Buddha, also known as the Sri Dalada Maligawa, which houses one of the most revered relics of Buddhism - a left tooth of the Buddha collected from his funeral pyre. Built within the Royal palace complex, this gold-roofed temple is the sole surviving relic of Buddha and has played a significant role in local politics since ancient times. According to tradition, whoever holds the relic holds the governance of the country, prompting ancient kings to protect it with utmost care.
Visitors must dress appropriately to enter, to show respect, caps and shorts are not allowed, and visitors are advised to wear a long-sleeved, light-colored shirt or blouse, a gown, skirt, or pants that are longer than knee-length. Additionally, shoes and slippers are not allowed inside the temple premises and must be left outside. Wearing socks, however, is permitted.
Kandy's charming appeal lies in its history as the old capital of Ceylon and the seat of the last Sinhalese Kingdom. The city's location in a peaceful wooded valley overlooking a vast manmade lake adds to its allure. The ancient official lake sits amongst rolling hills covered by forests and tea plantations, and visitors can enjoy a fantastic view from the upper lake of the entire city. Exploring Kandy is an exciting experience with its complex network of interconnecting roads and pavements dominated by vendors selling garments, lotteries, toys, and fancy items, making it almost impossible to pass through during festive seasons. The heart of the town is home to the main market, which offers a variety of fresh fruits, vegetables, fish and meat stalls, sweets, clothes, and fancy goods.
Kandy is also known for its gemstones, and visitors can purchase sapphires of all colors, rubies, tourmalines, and many precious and semiprecious stones. Visitors are invited to have a look around the workshops to see the design, cutting, polishing, and setting processes. After a day of exploring and shopping, visitors can return to their hotel for an overnight stay.
Day 09 - KANDY - NUWARAELIYA (2 Hours)

After breakfast checkout from the hotel and proceed to Nuwaraeliya (little England) on scenic way. (You have the opportunity to enjoy a brief train ride on your way to Nuwaraeliya. Your vehicle will travel ahead of you and pick you up from predetermined railway station. This is optional and availability has to be confirmed. Have to reserve seat before one month in advance. You have to confirm it before 6 weeks. (Also, you can have a train journey from Nuwaraeliya to Ella. It's not a long journey. But, very scenic) Enroot visit the Tea Factory to learn how tea is grown and processed. Arrive Nuwaraeliya and check into hotel for overnight stay in the cool comfort. Nuwaraeliya situated in 1900 meters above the sea level.
Recommended Hotels: Grand, Tea Factory Hotel, Araliya Green City, Araliya Green Hills, St Andrews, Hill Club, Amaya Langdale ( A boutique Hotel) An evening visit small city of Nuwaraeliya by yourself.
Nuwara Eliya meaning "city on the plain (table land)" or "city of light", is a town in the central highlands of Sri Lanka with a picturesque landscape and temperate climate. It is located at an altitude of 1,868 m (6,128 ft) and is considered to be the most important location for Tea production in Sri Lanka. The town is overlooked by Pidurutalagala, the tallest mountain in Sri Lanka.
Day 10 – NUAWARAELIYA – HORTON PLAINS – ELLA

HORTON PLANES IS OPTIONAL
If you willing to visit Horton Planes, you must inform to hotel reception on the previous night with time of departure to prepare your packeted breakfast. Because you have to leave the hotel around 5am. Also, if you are checkout to go to another city or hotel you have to settle all the bills in the previous night.
Early morning visit Horton Plains . They are best viewed at sunrise as the mist is less likely to spoil the view at that time of day. A road journey and the 2 – 3-hour work passes through heartland with giant ferns, terraced vegetable gardens and tropical, mist – shrouded forest, where tree branches poke sky wards like gnarled fingers.
You reach big world's end after a 5km walk from the entrance. The view from the sheer 1000m (3300-ft) drop is awesome. With luck there will be no mist to impede the panorama over the plains. Baker's fall is one of the most interesting places during this tour.
This walk will take around 3 - 4 hours. After world's end continue to Ella. Arrive to Ella and checking to hotel for overnight stay.
Recommended Hotels: 98 Acres-Flower Garden Hotel-Mount Heaven - Sky Green - Mountain Heaven

DAY 11 – ELLA
Have your breakfast in the hotel. After breakfast leave to visit Little Adam's Peak. This is very famous point in Ella. Then leave to visit 9 Arch bridge. After those places visit small but very interesting Ella City. So many restaurants. You can see highest number of tourists in Ella than the other places. I will arrange Sri Lankan Cooking demonstration in Ella.
Visit Little Adam's Peak is a popular hiking spot in Ella, Sri Lanka, which offers breathtaking views of the surrounding hills and valleys. To get to Little Adam's Peak, you can walk from the hotel. The trail is well-marked and not too difficult, making it accessible for most people.
Once you reach the peak, you can enjoy the stunning panoramic views of the tea plantations, mountains, and valleys. The view is particularly spectacular during sunrise and sunset, so try to plan your visit accordingly.
Overall, Little Adam's Peak is a must-visit attraction in Ella, and a great way to experience the natural beauty of Sri Lanka. Make sure to wear comfortable shoes and bring a bottle of water with you as the climb to Little Adam's Peak can be a bit steep. The view from the top is definitely worth it though, with stunning panoramic views of the surrounding area. Finally, take some time to explore Ella City itself. There are plenty of shops, restaurants, and cafes to check out, as well as some beautiful parks and gardens. And don't forget to interact with the friendly locals, who are always happy to chat with visitors and share their culture and traditions.
It will be a great opportunity for you to learn about Sri Lankan cuisine and its unique flavors. You will get to see how the locals cook their food and the different techniques they use. The demonstration will be held in a traditional Sri Lankan home and you will be able to taste the delicious food afterwards. This will be an unforgettable experience and a great way to immerse yourself in the culture of Sri Lanka. (optional)
DAY 12 – ELLA – ARUGAMBAY

I would recommend departing for Arugam Bay after finishing your breakfast at the hotel. Arugam Bay is a charming beach town located on the southeast coast of Sri Lanka, approximately 320 km away from the capital city of Colombo and 135 km from Ella. Checking to Bay Vista hotel.
DAY 13 –FULL DAY LEISURE AT ARUGAMBAY

Arugam Bay is widely known for its pristine and gorgeous beach that stretches over 3 km along the coastline. The beach is considered one of the top 10 surfing points in the world and is a popular destination for surfers due to its consistent waves, especially during the peak season from May to September.
Aside from surfing, Arugam Bay offers a broad range of activities for tourists to enjoy. These include water sports such as jet skiing, kayaking, and snorkeling, as well as beach activities like volleyball and frisbee. In addition, the town boasts a vibrant nightlife, with numerous bars and restaurants that offer live music and local cuisine.
Regarding sports, Arugam Bay is most famous for its surfing. It is home to some of the world's best surf breaks, including Main Point and Whiskey Point, which attract surfers from all over the globe. Several surf schools are available in the area that offer lessons for beginners, as well as equipment rentals for more experienced surfers.
DAY 14 – ARUGAMBAY – BUDURUWAGALA – UDAWALAWE

After breakfast checkout from the hotel to proceed to Udawalawe. Enroute you are visiting Rawana Waterfall and Buduruwagala ancient, historical site. Then continue to Udawalawe. Visit most impressive Elephant transit home. You can see many baby elephants here. Udawalawe became most popular destination because of the Udawalawe National Park. Checking to hotel for overnight stay.
Recommended hotels: Grand Uda Walawe Safari Resort, Centauria Wild, Ath Gira River Camping
DAY 15 – UDAWALAWE – NEGOMBO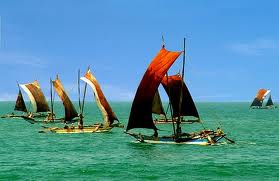 After breakfast, check out from the hotel and proceed to Negombo for your final day in Sri Lanka. We take pride in having provided you with a comfortable and memorable experience throughout your stay, and we would greatly appreciate your feedback and suggestions for improvement.
Recommended Hotels: Gateway Airport Garden Hotel by Taj or Goldi Sands.
DAY 16 – NEGOMBO – AIRPORT
As your tour comes to an end, we would like to express our sincere appreciation for choosing CYRIL TOURS for your visit to Sri Lanka. We hope that you have had a wonderful time exploring the island's beautiful scenery, cultural heritage, and hospitality. It has been a pleasure to be your tour guide and to show you around our beloved country.
At CYRIL TOURS, we always strive to provide our customers with the best possible experience, and we are delighted to hear that we have met your expectations. We sincerely hope that you have made unforgettable memories during your stay in Sri Lanka.
Before leaving for the airport, we kindly remind you to double-check your passports and travel documents and to pack your belongings. We recommend that you leave for the airport with ample time to spare, as traffic can be unpredictable at times. We advise aiming to be at the airport at least 2.5 hours before your departure time.
Your feedback and suggestions for improvement are highly appreciated. We would love to hear about your experience with us, and kindly ask that you share your thoughts on online platforms such as TripAdvisor and social media.
We would like to extend a warm invitation for you to come back and visit us again. Our team at CYRIL TOURS is dedicated to providing you with an even more remarkable experience on your next trip to Sri Lanka.
Once again, thank you for choosing CYRIL TOURS as your travel partner. We wish you a safe journey back home and hope to see you soon.
For any future travel plans or inquiries, please do not hesitate to contact us at our website www.cyriltours.com or email us at [email protected]. If you refer our services to your friends or family, kindly ask them to fill out the "Contact Us" form on our website.
Best regards, The CYRIL TOURS Team